The Royal Navy Marine Engineer
The Royal Navy Marine Engineer arguably possesses one of the most attractive ex-military profiles for the commercial sector.
Fact: out of the 1638 ex-military engineers we have placed with companies across the UK it is the Royal Navy Marine Engineer who has been placed the most.
Why?
Quite simply they possess such a wide and varied engineering skillset.
This is all down to their responsibility to maintain and fix all the engineering systems onboard our Royal Navy ships and submarines.
Ultimately, they are heavily involved in the planned and preventative maintenance of equipment including diesel engines, gas turbines, fuel systems, bulk fuel handling, HP & LP saltwater systems & compressors, centrifugal separators, pumps, heat exchangers, HVAC, fresh water, and sewage systems, hydraulic steering gear & stabilisers, fire-fighting equipment, and laundry equipment.
How many engineers do you know with such a broad engineering background?
We also need to acknowledge other attributes including their soft skills, qualifications that you will recognise (typically Level 3 and above), ability to work under pressure against tight timelines, 'can-do' attitude, ability to work in a team environment to complete a common goal, flexibility towards working hours and being away from home, willingness to learn along with possessing that all-important 'solution focused' approach.
Whilst the search for engineering talent is so competitive it's no wonder that the Royal Navy Marine Engineer is so highly prized.
Kelly Chandler
Recruitment Consultant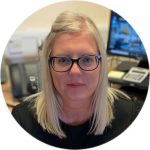 If you would like support with your vacancy please get in touch and I would be happy to help, just click here.