12 Things to do Right Now to Boost Your LinkedIn Presence
12 Things to do Right Now to Boost Your LinkedIn Presence
Despite LinkedIn's popularity, it remains one of the most underappreciated and underutilised career marketing tools. Many jobseekers still don't understand it or why it's so important. Most critically however, even those with excellent profiles are still not using LinkedIn to its fullest extent.
Before we delve into how to boost your profile, here are a handful of reasons why you should be using LinkedIn.
LinkedIn now has over 660 million users, 40% of which are active almost every day
61 million LinkedIn users are at senior level with hiring/decision making powers
11 million millennials are amongst those with hiring/decision making abilities
90% of all recruiters use LinkedIn to search for talent
There are more than 20 million company pages on LinkedIn, listing over 14 million jobs
The stats speak for themselves. So, if you haven't yet written a decent profile, you should make this a priority, today.
For those of you that have got a LinkedIn profile together, but you're just not sure what to do next, these 12 tips will give you a helping hand on how to use LinkedIn to:
Find better work
Change your career
Build a brilliant network
Attract new business
Engage with others in your industry
1. Tag people in your posts 
A great way to get your posts noticed on LinkedIn is to tag people using the @ sign, the same as you would on Twitter or Facebook.
A word of warning here, though.
Only tag people that you know will engage with your post. 
Tagging random people is just not cool.
For example, let's say you've just attended a brilliant training session over Zoom with Kevin from accounts. Or your client, Margaret, send you a lovely gift for your birthday. A quick note of thanks or a shout out to Kevin or Margaret, tagging them into your post, will very likely lead to post engagement (from Kevin and Margaret… which their network will see).
2. Share other people's posts but add your own perspective 
If you've seen a great post from someone you're connected with, then share it. It really helps them to boost their own LinkedIn presence.
Add your own perspective or comment though. Authenticity goes a very long way on LinkedIn.
3. Comment on posts and remain visible 
Even if you hate sharing — and that's okay, sharing isn't for everyone, there are many more 'consumers' not sharers on social media — then at least be sure to comment regularly on other people's posts.
It's a LinkedIn secret that will help you to remain visible without doing too much work. And, it will let people know that you have an opinion to share.
Also, it will help the post you've commented on to become more popular.
Comments are a win-win on LinkedIn!
4. Rapidly build your network 
Firstly, let's debunk the myth that a magical LinkedIn doorway to some networking utopia opens up when you hit 500 connections.
It doesn't.
But the size of your network does matter.
As a jobseeker, the benefit of building your LinkedIn social network is that it helps you look like a better social networker. And, recruiters/headhunters can find you a bit easier.
Also, the bigger your 1st-degree network, the bigger your 2nd-degree network becomes, meaning you can open yourself up to more opportunities to be found in the search results.
Don't be scared to connect with people you don't know — business relationships and job opportunities are often sparked by connecting with people you don't know yet.
5. Write at least one LinkedIn article 
Although you may not have the time, inclination or desire to write regularly, sharing at least one article does a few things for you.
It adds your article to your LinkedIn profile
It helps you to position yourself as someone who knows what their talking about
It helps to boost your personal brand
It gives you another place to link to your own website or other social media
It helps you to reconnect with your audience and gain new followers/connections.
6. Tidy up your LinkedIn homepage — clear out the clutter 
Every now and then it's good to have a purge of your Facebook 'friends' or people you're following on Twitter. But did you know you can also do the same thing on LinkedIn? And, what's more, you don't have to disconnect with any of your LinkedIn connections.
Head over to your LinkedIn timeline and choose a post that simply doesn't resonate with you, or someone who posts content that you'd rather not see on your homepage.
See those three little dots in the corner? Click. Choose 'Unfollow [name of person]'.
Done. You'll never see their content again in your home feed.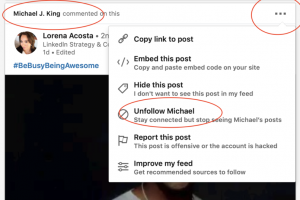 7. Add media to your summary section 
If you haven't done so already, adding relevant media to your summary section really helps to give a rounded view of who you are.
It also adds social proof that you can do what you say you can.
Dig out those YouTube clips, press cuttings, published articles, team photos and evidence of your awards. Upload them to your summary and show-off your skills.
8. Turn on your career interests 
If you're using LinkedIn to land your next job, or at least make a few valuable recruiter connections, then be sure to turn on your career interests.
You can find this on your own LinkedIn profile in 'Your Dashboard' which appears right under your summary section.
Then go ahead and add a personal note to recruiters and add the job titles that you're interested in pursuing.
Just doing this one thing will help recruiters to find you a bit easier when they're searching for candidates with your skills.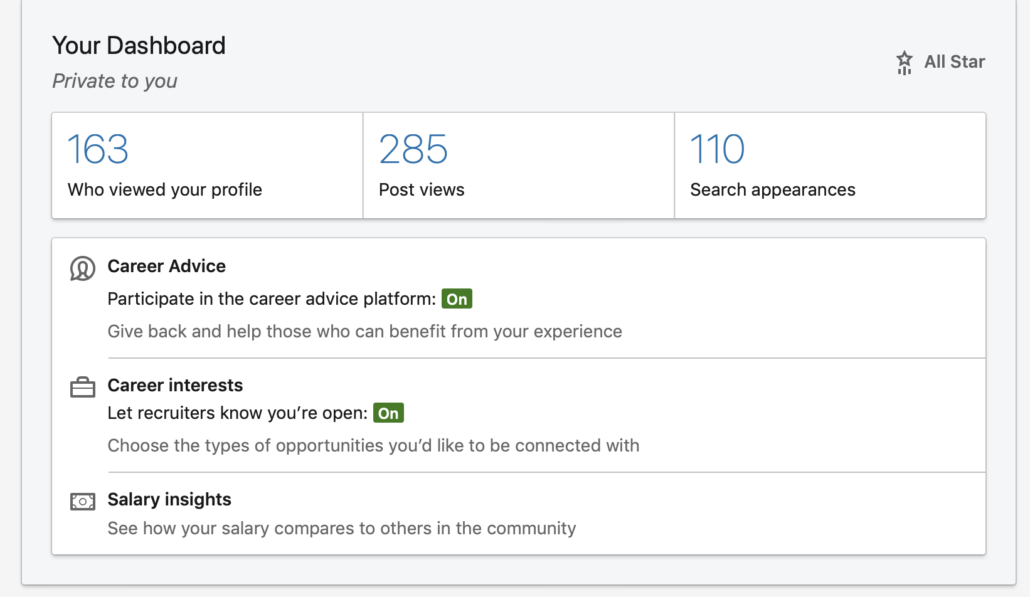 9. Pay attention to 'see more' 
When you first start posting regularly on LinkedIn, you may not get many likes, shares and comments on your posts.
That's okay.
Keep posting relevant, interesting, inspiring stuff and you'll soon get the engagement you want. In the meantime, though, try and ensure every post generates a 'see more' tag.
LinkedIn measures how many people click on this tag. By clicking, it means that people want to see more of your post. So, LinkedIn then starts to show your post to more people.
If you ever want to help a friend out with their LinkedIn efforts, always click the 'see more' tag on their posts and leave a comment.
10. Direct message anyone in your timeline from your phone 
Unless you're connected to someone on a 1st-degree basis, you can't direct message just anyone that appears on your LinkedIn timeline.
At least, you can't from your desktop without it costing you an InMail.
From your phone, however, quickly double-tapping on thumbnail headshot of your 2nd or 3rd-degree connection from within the timeline will allow you to message them directly, for free.
11. Pay attention to 'People Also Viewed'
Ever wonder who people are also viewing when they come across your profile?
The 'People Also Viewed' column on your profile page tells you exactly what type of 'group' you belong to.
Is it full of people you want to be associated with? Thought leaders? Top execs from your industry? People with great hair?
Or is it full of people that have no relevance to you at all?
If the answer is the latter, then turn off this feature. Association with these people will not help to enhance your personal brand.
To turn it off, head on over to your privacy settings and hit 'no' on 'viewers of this profile also viewed.'
12. Get more recommendations 
Not so much a closely guarded LinkedIn secret but recommendations are more social proof that you're an excellent candidate.
Aim for as many recommendations as possible from ex-bosses and colleagues, clients, business partners and friends.
Stop being embarrassed to ask and be generous with your own recommendations — you'll be more likely to have your generosity reciprocated.
There you have it — 12 very easy things to implement on LinkedIn that you can do today to boost your presence and grow your network.
There are countless more, of course, but these will help to set you up for long-term LinkedIn success.
If you are leaving your Royal Navy, British Army or Royal Air Force engineering career sign-up to receive our FREE 'Monday Job Alert'