10 years with Demob Job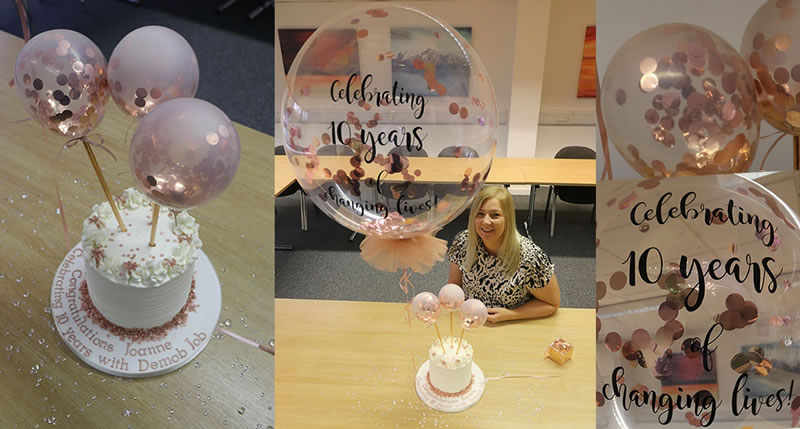 Demob Job Employee Celebrates 10 Year Anniversary
Joanne Foster, recruitment team manager, celebrates her 10-year anniversary with Demob Job.
After working at a leading North East estate agent in sales and management roles, Joanne joined Demob Job in 2008 as a recruitment consultant and was promoted to recruitment team manager in 2011. Over the past 10 years, Joanne has developed a sound understanding of the engineering and facilities sectors, successfully placing hundreds of ex-military personnel into engineering and technical roles, whilst building long-term relationships with key customers. A senior member of the team, Joanne spearheads the implementation of the sales strategy and manages a team of consultants who she coaches, mentors and motivates to support them in achieving their targets.
Joanne said: "Celebrating my 10-year anniversary has given me an opportunity to reflect on my experiences and I really do believe we are different to other recruitment agencies
"Since joining as a recruitment consultant back in 2008, it has been fantastic to see the business go from strength to strength, develop longstanding relationships with clients and ultimately change people's lives – I'm extremely proud to have placed over 250 candidates into employment!
"I have gained a great insight into all the trades within the Royal Navy, British Army and Royal Air Force and until I started doing this job I didn't realise how well trained and highly skilled these men and women are. I have the upmost respect for those serving our country and I enjoy giving them support and guidance, as leaving the military for some can be a very daunting time.
"As a company we pride ourselves on honesty and integrity, so when I'm dealing with companies or ex-military personnel it's about more than placing someone in a role. I invest a lot of time building relationships and really understanding individual circumstances, providing guidance and support to help give candidates focus and direction when transitioning from the military to civilian employment. I find it so rewarding to inform a candidate that they have been successful.
"I'm very proud of what the company has achieved and look forward to helping drive the company forward in the future."
Adrian Cheesman, managing director at Demob Job added "At Demob Job we firmly believe that people are our greatest asset. Joanne is an important member of our senior team and her abilities and contributions will play a vital part in our continued success.
"It is an exciting time for the company as we gear up to aggressively move forward with our business strategy in 2019, with a focus on raising our profile in the North East and positioning ourselves as the ex-military recruitment specialist for engineering and technical roles."